Employee of the Quarter is a new program within our employee recognition program at Pinnacle Services. To be nominated, the employee must: be nominated by a supervisor or co-worker for exhibiting all of Pinnacle's Core Values, be up-to-date with all training and be current with all HR-required documentation, follow company policies and procedures, have a positive attitude, and exhibit team work.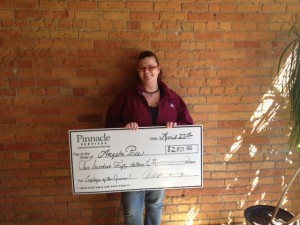 The Winner is:
Angela Price, Program Counselor at Hidden Valley
Angela was nominated by Lynn Morris.

Absolute honesty, integrity and ethics in all aspects of business
Angela has always been honest in reporting, even when it may have been uncomfortable for her. She always follows through within the time frame given her. Angela was recently asked to help set up a computer and rearrange some furniture; she completed the task by the next day. Angela always goes above and beyond when a task or special project presents itself.
Encourage people to achieve their full potential
Angela has trained many new staff at Hidden Valley. She always offers tips and tricks on finding a routine, helping the ladies get everything done, and dealing with the stress in this type of work. As for the consumers, Angela encourages the ladies to complete their outcomes, while helping them to go a step further. Angela has been heard many times saying, "C'mon, you can do it! Keep trying!"
Work with passion, commitment, and enthusiasm
Angela has been overheard giving wonderful testimony regarding Pinnacle Services. She has demonstrated her commitment, not only in what she says, but also in her longevity with the company and Hidden Valley.
Create fun and happiness in people's lives
Angela has committed to this core value in a big way. Every year, since its start, she has attended Camp Confidence with the Hidden Valley ladies to work closely with the manager to make sure that everyone gets to go on the activities of their choice. Angela demonstrates fun and happiness in many more ways on a daily basis with the ladies, from: finding activities, conferring on meal choices, to finding medical professionals (such as a dentist) that fit needs and comfort level.
Celebrate diversity and the uniqueness of people
Angela gets along well with both the consumers and her peers. She promotes a calm attitude while addressing issues. Her calmness generates trust with her coworkers. As a trainer, she "knows her stuff" and makes sure to share that with new staff. Her training has helped the ladies to have more peace of mind and be more accepting of new staff.
Be tenacious and innovative agents of change
Angela works closely with the Program Manager, organization, and the day-to-day business of the home. She has helped with filing systems, grocery shopping routines, activity scheduling, and many other things. Angela remains flexible with her schedule and is always willing to adjust to meet the needs of the home. Angela began by helping with two homes (Hidden Valley & Briarwood Trail) and now with two other homes. She often suggests schedule changes in order to help cover at Ridge Point when they are in need.
Pursue growth and learning
Although Angela's primary location is Hidden Valley, she has pursued training at two other sites – Ridge Point and Jasper Hill. She attends trainings on a regular basis and offers valuable input. Anytime there has been change or growth at Hidden Valley, she has been enthusiastic and eager to learn and implement the new ideas.