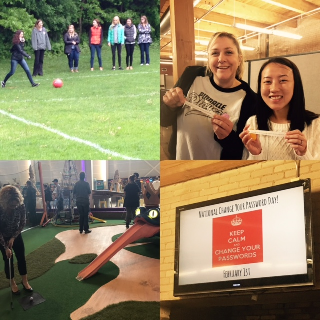 Pinnacle Services provides a work hard, play hard atmosphere by utilizing an innovative employee engagement strategy. Experts say that engaged employees are more happy and productive. With that in mind, we recently enhanced our employee engagement strategy to fit the needs of the ever-changing workforce. We are increasing our engagement with employees to ensure strong communication, team building activities, weekly events and various recognition efforts.
Our communication efforts have been strengthened with social media, monthly updates via our office information displays, the agency's monthly newsletter, Q&A sessions and our comment submission boxes! In addition to looking at our communication strategy, we decided to change our management meeting strategy. For all of 2017, we have decided not only to communicate our agency goals at these meetings but to make them more interactive and allow for some team building. At our May's management meeting, we provided employees with the opportunity to connect through a good ol' fashioned kickball game!
In addition to these efforts we have also implemented an employee events calendar that comes out each month with weekly events! In July, we will participate in "National Ice Cream at Work Day", "Hat Day" and "Breakfast at Work Day". In addition to these efforts, our employees can nominate each other for adhering to our core values. Each month, two nominated employees are chosen at random to have lunch with Human Resources; this seems to be a hit among many of our employees.
We are committed to providing a strong, engaged workforce where hard work and fun can coincide. If you have an idea or suggestion for our next management meeting or our monthly events calendar please submit your idea to hr@pinnacleservices.org
To join our team, visit our careers page!