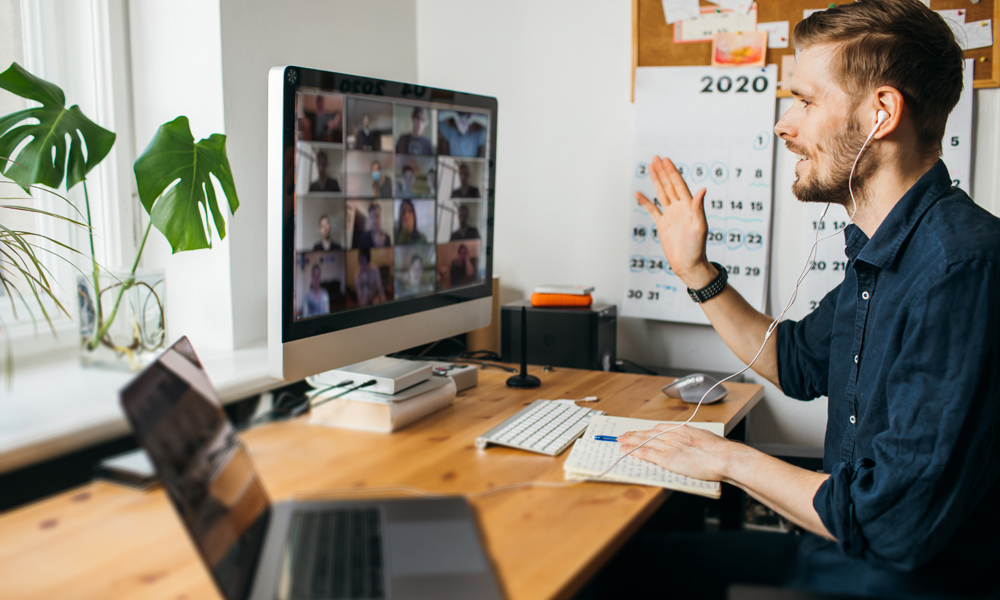 Group meetings, especially online ones, can be difficult to navigate. But as the pandemic continues, it's safest to run meetings this way to remain socially distant. This can be especially challenging for those in the care services sector, as meetings with your team, your individuals served and their families are often necessary.
Fortunately, we have the tools and technology to conduct virtual group meetings, we just need to ensure we're using them correctly. Like many apps and software, virtual meeting platforms aren't always perfect, whether it's through technological or human error.
They can come with some downsides
While virtual meetings provide many benefits, they can also come with downsides, such as:
More distractions: People often join virtual meetings from the comfort of home. While there's no place like home, it's also a place full of constant distractions. Those distractions can take many forms. Whether it's your cat jumping across the computer screen or people working on your house, these interruptions can create extra noise and commotion, making it hard for you and others to pay attention.
Technical glitches: Some people don't have the best internet connection. Other times, the meeting platform doesn't work how it's supposed to. Either way, this can cause unpredictable communication disruptions during the meeting. These glitches can cause meetings to run longer than expected or make people miss important information.
More difficult to create a team dynamic: While virtual meetings can still be productive, there is something about in-person meetings that sparks innovation and creative problem solving. Because people are in their own separate spaces, online meetings can make it more difficult to develop trust and team cohesion, especially when new people are added to the team.
Hard to host larger gatherings: Virtual meetings often work best for smaller groups. But if those groups get too big, it can cause technical glitches and be much harder for people to speak up.
How you can improve them
Despite the cons of holding virtual meetings, there are plenty of solutions you and your care team can utilize to make it productive, engaging and worthwhile. Some of those include:
Share meeting notes: Some external distractions and technical glitches are out of our control. To prevent anything from getting lost in translation, recording the meeting and sharing documents can be extremely beneficial. That way, anyone involved in it can go back and get the information they missed. This can be especially crucial if you're speaking with a person in need's family, who may have specific requests for their loved one.
Create a clear agenda and time frame: If you're the one hosting a meeting, it can be easy to get lost in the details, especially if participants have wide-ranging questions on a variety of issues. To make the meetings clear and concise, it's important to set a theme for the meeting and keep your focus on that theme.
Limit the number of attendees: On platforms like Zoom, you can have up to 100 participants. However, talking to that many people on a chat is much more challenging than talking to 100 people in a town hall. If you want to make your meetings more manageable, limit the number of participants in the meeting. Or, you can break up the meeting into two different sessions.
Allow chances at the end for people to ask questions/voice concerns: To ensure information gets communicated effectively, hosting a Q&A session can help clarify anything for those involved. You may want to have people use the hand-raising feature on Zoom, Slack or Microsoft Teams. This feature can let people address questions or concerns they have. It will be different in each app, but any of them can be just as effective. If multiple people virtually raise their hands, the app can allow meeting hosts to take questions on a first-come, first-served basis.
Effective virtual meetings are possible
Online meetings, especially for those in the care services sector, are critical but challenging to execute. But with the right tools and techniques in place, having a clear, focused and satisfying meeting is possible.
At Pinnacle Services, we're doing everything we can to foster safe and productive virtual meetings. To learn more about what else we're doing for our employees and those in need of care, check out blogs like this and more on our website.